OUR MENU
---

---
We
provide
SUPERIOR QUALITY CATERING
for any event in California on our real mesquite burning BBQ trailers. Our generous portions, quality meats and experienced staff are sure to make your event a raving success. Regardless of what type of party, your guests will always remember the food and judge your event accordingly.
Remember -
WE NEVER SAY NO TO SECONDS
(unless noted on special promotions) on our on-site catering events and only charge for the amount of guests agreed upon.
We also offer discounted pricing on large corporate events and all deliveries
.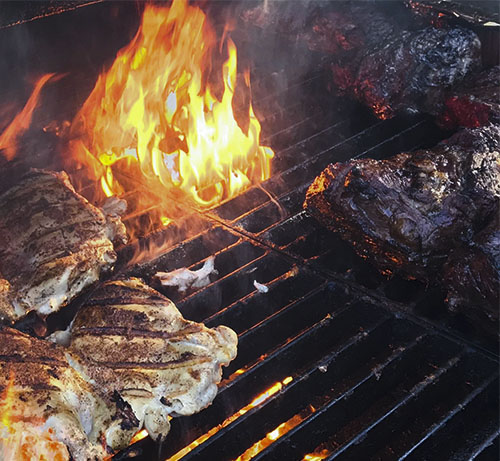 THE ORIGINAL
Tri Tip (USDA Choice Beef - Hand carved)
Mesquite Grilled Chicken Breast (Corn Fed - Hand carved)
Tri Tip Chili (Spicy/Limited availability)
Backwoods Baked Beans (No meat)
Green Salad (Ranch & Italian dressings)
Macaroni or Potato Salad
Fresh Dinner Rolls
$24.95/Delivery-Drop Set (add $3 - Full Service)
---

---
---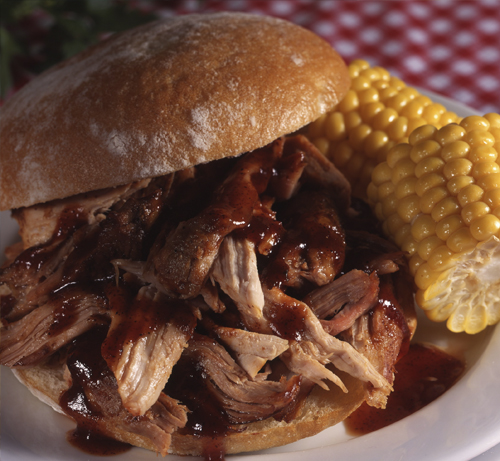 THE CLASSIC
Mesquite Smoked & Marinated Pulled Pork (Pork Shoulder)
Mesquite Grilled Chicken Breast (Corn Fed - Hand carved)
Tri Tip Chili (Spicy/limited avail.)
Backwoods Baked Beans (No meat)
Green Salad (Ranch & Italian dressings)
Macaroni or Potato Salad
Fresh Dinner Rolls
$21.95/Delivery - Drop Set (add $3 - Full Service)
---

---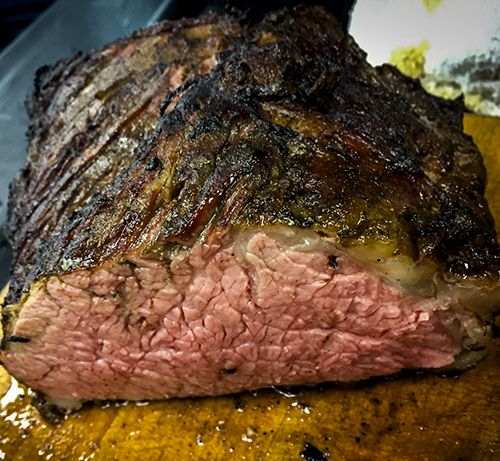 THE BIG THREE
Tri Tip (USDA Choice Beef - Hand carved)
Mesquite Smoked & Marinated Pulled Pork (Pork Shoulder)
Mesquite Grilled Chicken Breast (Corn Fed - Hand carved)
Tri Tip Chili (Spicy/limited avail.)
Backwoods Baked Beans (No meat)
Green Salad (Ranch & Italian dressings)
Macaroni or Potato Salad
$27.95/Delivery - Drop Set (add $3 - Full Service)
---

---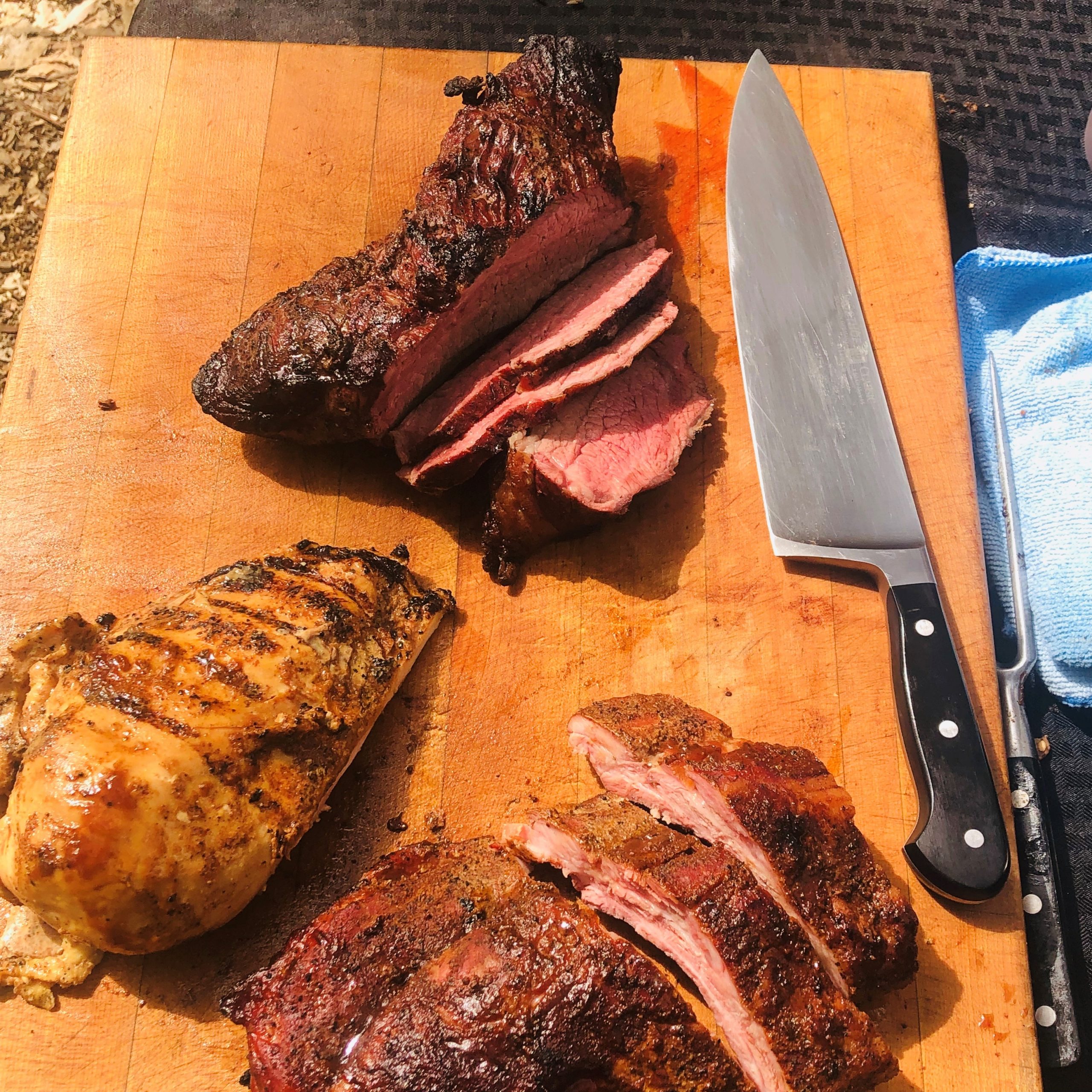 THE ULTIMATE COMBO
Tri Tip (USDA Choice Beef - Hand carved)
Mesquite Grilled Chicken Breast (Corn Fed - Hand carved)
Smoked & Marinated Meaty Baby Backs Ribs (Pork Loin back ribs)
Tri Tip Chili (Spicy/limited avail.)
Backwoods Baked Beans (No meat)
Green Salad (Ranch & Italian dressings)
Macaroni or Potato Salad
Fresh Dinner Rolls
$29.95/Delivery - Drop Set (add $3 - Full Service)
---

---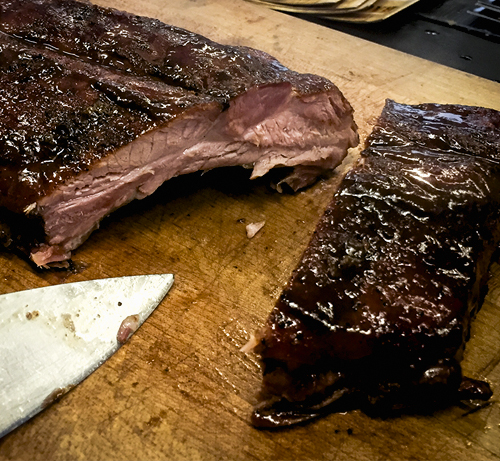 RIBS & CHICKEN
Smoked & Marinated Meaty Baby Backs Ribs (Pork Loin back ribs)
Mesquite Grilled Chicken Breast (Corn Fed - Hand carved)
Tri Tip Chili (Spicy/limited avail.)
Backwoods Baked Beans (No meat)
Green Salad (Ranch & Italian dressings)
Macaroni or Potato Salad
Fresh Dinner Rolls
$24.95/Delivery - Drop Set (add $3 - Full Service)
---
---
DESIGN YOUR MENU
Mesquite Smoked Turkey
Hot Links or Kielbasa Rope Sausage
Smoked Turkey Breast
Smoked Black Forest Ham
All Beef Hot Dogs & Angus Burgers
Marinated Carne Asada (Skirt Steak)
Rib Eye Steak & Prime Rib
Addition Sides are Listing Below
CALL for Pricing
---

---
ADDITIONAL MEATS & SIDES
---

---
Hot Links or Kielbasa Sausage
Mesquite Smoked Ham
Mesquite Smoked & Marinated Turkey
Marinated & Fire Grilled
Carne Asada
Mesquite Grilled Salmon & Veggie Skewers
Mesquite Fired Steaks & Kabobs
Angus Hamburgers & All beef Hotdogs
Macaroni & Cheese (Backwoods Homestyle 4 Cheese Lg Elbow pasta)
Backwoods Cheesy Cream Style Corn
Buttered Cut Corn
Fresh Corn on the Cob (cooked in the husk)
Garlic Mashed Potatoes
Grilled Vegetable Skewers
Backwoods Spicy Pinto Beans